Bright Beet Pancakes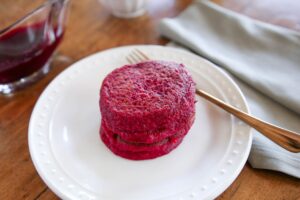 Ingredients
½ a can of beets, about 7.5 oz or just under 1 cup (no liquid)
1 ½ cup all-purpose flour or flour mix of choice
2 tsp baking powder
1 tsp baking soda
¼ tsp salt
3 tbsp chia seeds
2 tbsp maple syrup or agave syrup
1 tsp vanilla extract
2 eggs
1 cup milk of choice
2 tbsp oil of choice
Instructions
Blend the soft, canned beets in a food processor or blender until smooth.
Add dry ingredients (1 ½ cup all-purpose flour or flour mix of choice, 2 tsp baking powder, 1 tsp baking soda, ¼ tsp salt, 3 tbsp chia seeds) to a mixing bowl.
Add in blended beets and wet ingredients (2 tbsp maple syrup or agave syrup, 1 tsp vanilla extract, 2 eggs, 1 cup milk of choice, 2 tbsp oil of choice) and stir until combined.
Heat a pan or other skillet over medium-low heat. Add cooking oil to the pan. When the oil is hot, ladle batter onto the heated pan.
Cook until bubbles form in the batter and it looks dry enough to flip, about 2-3 minutes. Flip and cook the other side for another 2-3 minutes.
Remove the pancake from heat and enjoy with syrup and other desired toppings!
https://eatsparkcity.org/recipes/bright-beet-pancakes/