Chickpea Breakfast Burrito Bowl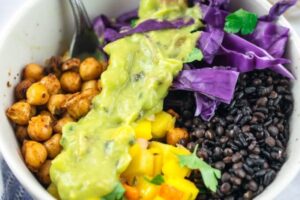 Chickpea Breakfast Burrito Bowl
Calories: 393
Fat: 13 grams
Carbohydrates: 53 grams
Fiber 13 grams
Protein: 14 grams
Allergens: None
Ingredients
1 cup uncooked Ancient Harvest Organic Antioxidant Blend
1 batch blackened chickpeas (recipe attached)
1 cup guacamole or well-mashed avocado
1 tbsp freshly squeezed lime juice
1 tbsp plan, unsweetened non-dairy milk
½ head red cabbage, chopped
1 cup salsa (mango salsa used)
Fresh cilantro (optional)

Blackened Chickpea Recipe Ingredients

½ tbsp smoked paprika
½ tbsp regular paprika
1 tsp onion powder
1 tsp garlic powder
1 tsp cayenne pepper
¾ tsp ground white pepper
¾ tsp ground black pepper
½ tsp dried thyme leaves
½ tsp dried oregano
Instructions
Combine the rice blend with 2 and 1/4 cups of water and bring to a boil. Reduce to a simmer, cover, and cook for 25-30 minutes or until all the water is absorbed. Remove from the heat and allow to stand for 5 minutes, then fluff with a fork. (Note: also works in a rice cooker).
If you haven't already, prepare your blackened chickpeas according to the instructions.
Whisk together the guacamole or mashed avocado with the lime juice and non-dairy milk until smooth.
To prepare each spicy chickpea breakfast burrito bowl, add 1/2 cup of cooked rice blend to a bowl. To the bowl, add about 3/8 cup blackened chickpeas (a fourth of the recipe); a big handful of chopped cabbage; 1/4 cup salsa (or to taste); and top with 1/4 cup of the avocado mixture. Garnish with fresh cilantro if desired and serve.

Blackened Seasoning Blend Instructions

Mix the paprika, onion powder, garlic powder, cayenne, and pepper together in a small bowl. Use a mortar and pestle, or even just your fingers to grind the dried thyme and oregano into smaller pieces, and then stir it in with the other spices. This makes extra which can be kept in a jar or airtight container at room temperature for a few weeks and used on pretty much everything!

Blackened Chickpeas Instructions

Heat the vegetable oil in a large skillet over medium-high heat. Add the chickpeas, stir well, and cook for 2 minutes. Add the blackening seasoning in two or three batches, stirring each time, to ensure even distribution. Continue to fry, stirring occasionally, until the chickpeas are lightly crisped (they'll get even crispier as they cool) and the spices and herbs are a little browned - about 5 minutes.
Season to taste with salt and more seasoning blend if desired. Once cooled, leftovers can be stored for several days in the fridge, but note that the chickpeas won't stay crispy, despite still being tasty.
*GRAIN BLEND: 1 cup of the dry Antioxidant Blend makes 2 cups cooked. You may substitute it with other cooked grains or grain and lentil blends.
*VARIATIONS: These chickpea burrito bowls are super flexible. Here are some possible variations: add seasonal roasted vegetables like butternut squash or zucchini. Put the filling into tacos instead of bowls. Blend and scramble the chickpeas to resemble egg. Substitute black beans for the chickpeas. Add a chipotle pepper in adobo sauce to the rice while it cooks (perfect for using up extras). Or use cauliflower rice!
https://eatsparkcity.org/recipes/chickpea-breakfast-burrito-bowl/