Chocolate Baklava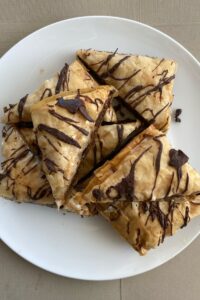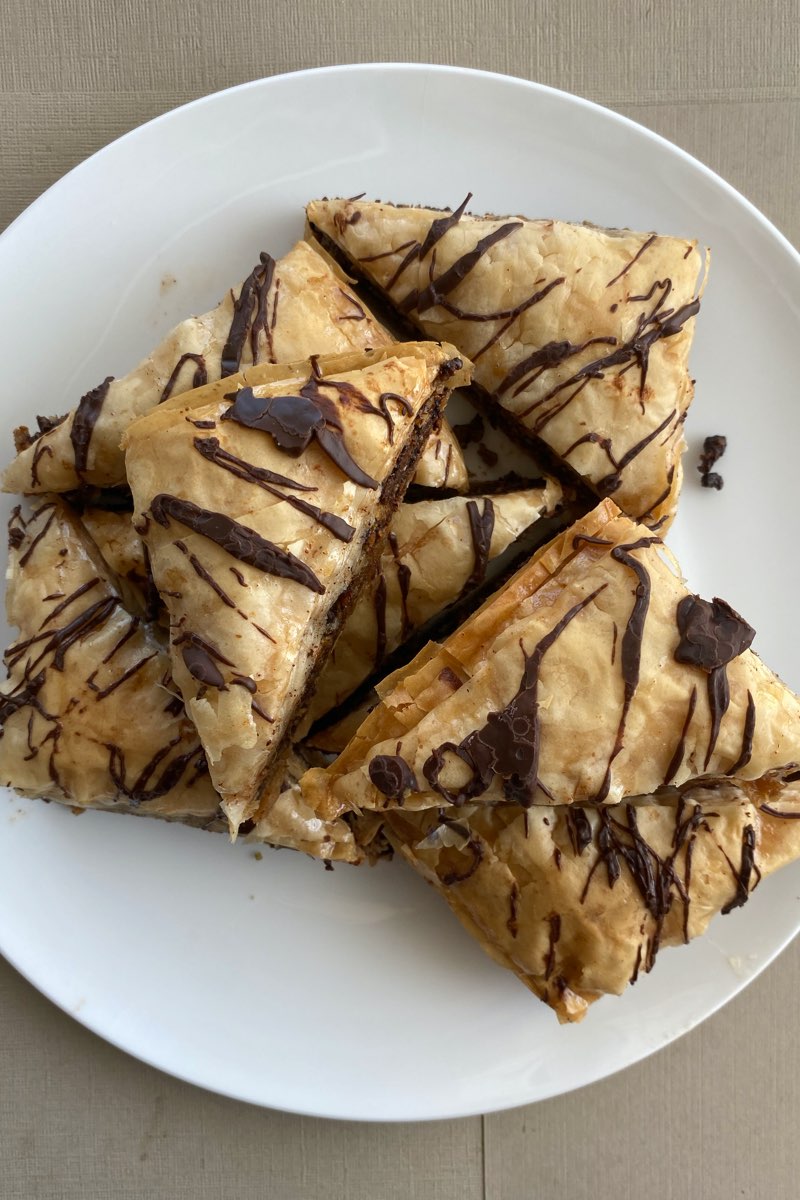 Ingredients
For the Dough

Frozen phyllo sheets

For the Filling

2 cups of pecans
3/4 cup dark semi-sweet chocolate chips (extra chocolate chips can be used to drizzle chocolate on top of baklava)
2 tbsp brown sugar
1/4 tsp cardamom
1/4 tsp sea salt
1 tsp cinnamon

For the Syrup

3 cups sugar
1 cup water
1 tbsp rose water
Instructions
Preheat the oven to 375 degrees. In a food processor, pulse chocolate chips until finely ground then add pecans, brown sugar, cinnamon, cardamom and sea salt. Pulse again until the pecans are chopped and the mixture is combined.
Brush a 9-by-13-inch rectangular pan sheet with melted butter. Trim the thawed phyllo sheets to fit in the pan easily (cover phyllo dough with a damp towel as you work to prevent dough from drying and cracking).
Gently lay the phyllo sheet into the pan and brush with butter. Repeat until half the phyllo is used.
Spread the pecan mixture evenly over the phyllo dough. Top with remaining phyllo sheets, continue brushing butter between each layer (reheat butter if necessary). Generously brush the top layer with butter.
Using a sharp knife, cut baklava into 24 pieces. First, cut the baklava into even squares, then cut each square diagonally in half to form a triangle.
Place baking pan into the oven and bake for 35 to 45 minutes or until top sheet is puffy and golden brown.
Meanwhile, prepare the syrup. In a medium saucepan, heat 1 cup water and add 2 cups of sugar over medium-high; bring to a boil.
Reduce to a simmer; add 1tbsp rosewater and cook until slightly thickened and sugar is dissolved, 5 to 8 minutes. Remove from heat and set aside.
Once the baklava is ready, pour syrup over baklava (listen for the sizzle!) and let sit until fully absorbed.
Drizzle with chocolate on the top (optional).
Best served with Arabic coffee! Remember to have your coffee destiny reading after!
https://eatsparkcity.org/recipes/chocolate-baklava/