Coconut Snowball Cookies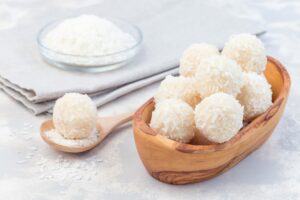 Total Time: 30 Minutes        Yields: 9 Cookies
Ingredients:
3 cups shredded unsweetened coconut 

1 ½ TBSP coconut oil 

3 TBSP maple syrup 

1 ½ TBSP Aquafaba or 1 egg white (adds binding / moisture)

Pinch sea salt 

½ tsp vanilla extract

1 TBSP cornstarch
Directions:
Preheat oven to 365 degrees and line baking sheet with parchment paper 

Add coconut flakes to the food processor and blend until they start clumping together. It should stick between your fingers like a gritty loose dough

Add coconut oil, maple syrup, aquafaba, salt, vanilla, and blend in for 20 seconds.

Add cornstarch and pulse several times until the wet dough has formed. 

Scoop 1 ½ TBSP mounds and transfer to parchment paper, leaving a little space between each cookie. 

Bake 13-15 minutes until golden brown, careful not to burn the undersides.