Hearty Veggie Soup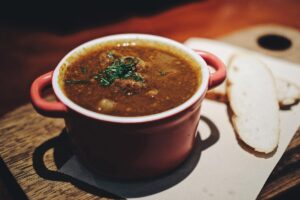 Ingredients
1 32-ounce box vegetable broth
2 rutabagas
2 small red potatoes
2 carrots
2 celery stalks
1 onion
1 15-ounce can of seasoned diced tomatoes
2 tablespoons oregano
2 tablespoons basil
Salt and pepper to taste

Optional

Make your own veggie broth with kitchen scraps or use a Bouillon cube.
Add cooked chicken breast or cooked steak.
Use frozen veggies instead of carrots and celery for less chopping.
Use an Italian seasoning blend in place of oregano and basil.
Instructions
Add all ingredients to a large stock pot and bring to a soft boil.
Boil until all vegetables are tender, usually about 40 minutes.
Serve hot. Store in the refrigerator up to five days.
https://eatsparkcity.org/recipes/hearty-veggie-soup/