Pumpkin Bread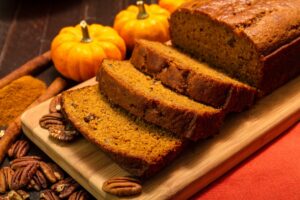 Ingredients
2 cups flour (spelt, all-purpose, whole wheat, or GF flour blend)
3/4 cup sugar (coconut or organic pure cane)
1/4 cup powdered sugar
1 tsp baking powder
1 tsp baking soda
4 tsp pumpkin pie spice (cinnamon, ginger, nutmeg, allspice, and a pinch of cloves)
A pinch of salt
2 tsp vanilla
1/3 cup water or unsweetened milk of choice
1/3 cup oil or applesauce
1 can (15 oz) 100% pumpkin puree
Instructions
Preheat the oven to 350 degrees Fahrenheit.
Combine all ingredients in a large mixing bowl or in your mixer of choice. Blend until smooth.
Pour batter into a greased loaf pan or line the loaf pan with parchment paper.
Bake for 55-60 minutes. A fork or toothpick inserted into the center of the loaf should come out clean.
Let cool completely before storing.
https://eatsparkcity.org/recipes/pumpkin-bread/