Pumpkin Spice Latte with Coffee or Matcha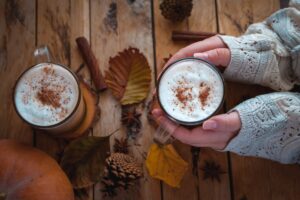 Pumpkin Spice Latte with Coffee or Matcha
Ingredients
1 cup hot matcha or coffee (already brewed)
½ cup milk of choice
1 tsp pumpkin pie spice (cinnamon, cloves, nutmeg, ginger)
1 tsp maple syrup
1 tsp vanilla extract

Optional

Use a flavored coffee creamer like caramel or vanilla in place of milk. This will sweeten the drink on its own and omit the need for maple syrup.
If making an iced beverage, make the coffee or matcha double as strong as you would normally make it, then pour over ice at the very end.
Instructions
Put all ingredients into a blender cup. Using a whisk also works in a pinch!
Blend until frothy.
Enjoy hot or over ice (see instructions for iced above).
https://eatsparkcity.org/recipes/pumpkin-spice-latte/