Roasted Brussel Sprouts with Golden Raisins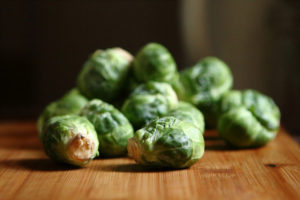 Brussel Sprouts recipe courtesy of The Farm restaurant at Canyons Resort, Chef Manuel Rozehnal.
Preheat oven to broil, 525 degrees
Cut 4 cups of brussels sprouts in halves or quarters.
Toss in a bowl with 2T extra virgin olive oil and season with sea salt (try Moldon sea salt but any will do).
Add fresh ground black pepper (the fresher the better) to taste.
Line a tray with parchment paper and roast sprouts until golden brown ( 4 – 6 minutes ). Keep an eye on them! They'll burn quickly at this high temperature!
Return the sprouts to a bowl and mix with a 1/2 cup of raisins (try golden raisins).
Serve family style. Also very good with pork tenderloin. ENJOY!