Seasonal Butternut Squash Chili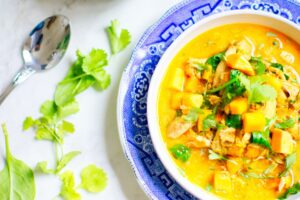 Seasonal Butternut Squash Chili
Ingredients
2 TBSP olive oil 
1 medium red onion
3 bell peppers 
1 small butternut squash, peeled and chopped into ½ inch cubes
4 garlic cloves, pressed or minced
1 TBSP chili powder
½ - 1 TBSP of chipotle pepper in adobo sauce (start with ½ and add more depending on how spicy you want it)
1 tsp cumin
¼ tsp ground cinnamon
1 bay leaf
2 cans black beans rinsed and drained
1 small can of diced tomatoes including liquid
2 cups of water
Salt as needed
Cilantro for garnishing
Instructions
Start by chopping the butternut squash, onions, and bell peppers. 
Bring a stock pot over medium heat and add olive oil, saute the onion, bell peppers and squash until the onions are translucent 
Turn heat to medium low and add garlic, chili powder, the chipotle peppers in adobo sauce, cumin and cinnamon. Stir for 30 seconds. 
Then add the bay leaf, black beans, tomatoes, and their juices with broth/water. Stir to combine and cover for 20 minutes to an hour, depending on the heat of your stove.
Chop cilantro to add while serving. 
The chili is done when the butternut squash is tender!
https://eatsparkcity.org/recipes/seasonal-butternut-squash-chili/