Smashed Chickpea and Avocado Salad Sandwich with Cranberries and Lemon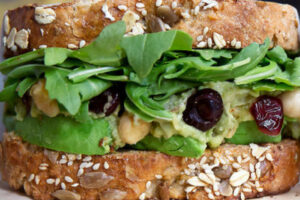 Smashed Chickpea and Avocado Salad Sandwich with Cranberries and Lemon
Calories: 406
Fat: 15.3 grams
Carbohydrates: 60.5 grams
Fiber: 17.3 grams
Sugar: 10.7 grams
Protein: 12.3 grams
Allergens: Gluten, wheat
Ingredients
1 - 15 oz can chickpeas, rinsed and drained
1 large ripe avocado
2 teaspoon freshly squeezed lemon juice
1/4 cup dried cranberries (watch for added sugars on cranberries)
Salt and pepper to taste
4 slices of your favorite whole grain bread (or gluten free) BREAD is always optional.
Toppings: Arugula, red onion, or spinach
Instructions
In a medium bowl, smash chickpeas with a fork. Add in avocado and continue to smash again until avocado is smooth, leave a few avocado chunks.
Stir in lemon juice and cranberries. Season with salt and pepper to taste. Place in refrigerator until ready to serve (best within 1-2 days).
When ready to serve, toast bread then spread 1/2 chickpea avocado salad over 1 slice. Top with arugula, red onion or spinach, if desired. Add the other toasted slice on top, then cut in half and enjoy!
https://eatsparkcity.org/recipes/smashed-chickpea-avocado-salad-sandwich-cranberries-lemon/