Smokey Carrot Dip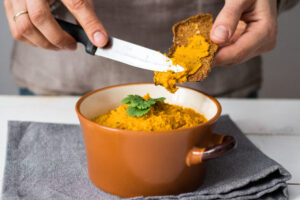 Ingredients
12 oz of carrots
1 tsp smoked paprika
½ tsp cumin
1 tsp soy sauce or tamari
2 tsp honey
2 chipotles with adobo liquid
2 tbsp almond milk
¼ cup of cashews
Instructions
Wash carrots thoroughly and remove tops. Not necessary to peel.
Preheat oven to 400 degrees Fahrenheit.
Cut in 2-inch pieces and place on baking sheet.
Season with salt and olive oil and roast for 30 minutes until tender or lightly browned.
Once carrots have cooled, add them to the food processor with everything else listed above.
Combine until fully combined.
Add more olive oil or almond milk until consistency is as desired.
https://eatsparkcity.org/recipes/smokey-carrot-dip/