Stir-Fried Pea Shoots with Orange, Garlic and Ginger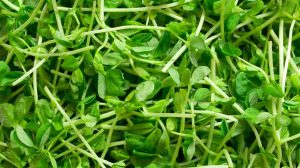 Ingredients:
1⁄2 pound pea shoots
1 tablespoon canola oil
3 cloves garlic, peeled, minced
1 tablespoon fresh minced ginger
1⁄2 teaspoon crushed red pepper or to taste
1 tablespoon soy sauce
juice of 1 medium orange
zest of 1 medium orange
Steamed rice or quinoa for serving, optional
Directions:
Rinse the pea shoots well in water and spin them dry in a salad spinner, or pat dry.
Heat a wok over medium-high heat. Add the oil. Add the garlic, ginger and crushed red pepper and cook until fragrant, for 20 to 30 seconds.
Add the pea shoots, stirring them constantly until they just begin to wilt.
Add the soy sauce and orange juice, cover the wok. Reduce the heat to low and cook for about 2 minutes.
The pea shoots should still have a light crunch to them. Sprinkle orange zest over the pea shoots and serve immediately as a side dish (or serve over rice/quinoa).
Makes 4 servings.
Recipe courtesy of Chef Allen Tran and used in EATS after school cooking class.
Fun Facts about Pea Shoots
Pea shoots are high in vitamin C and fiber
Pea shoots can be eaten with salads, lightly cooked, or as a fresh snack
Pea shoots can be grown indoors in a window sill or bright room
Pea shoots are easy to grow and can be ready to eat in just 2-3 weeks after planting
Pea shoots are grown and can be purchased right here in Park City