Tofu Breakfast Burrito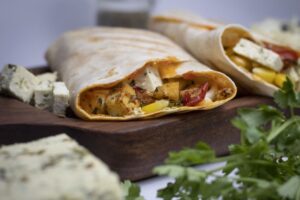 Calories: 159
Fat: 12 grams (Saturated Fat: 2 grams)
Carbohydrates: 12 grams
Protein: 9 grams
Fiber: 4 grams
Allergens: Gluten, soy
Ingredients
1 large sweet potato, cut into cubes (peeling is optional)
Tortillas
½ tbsp. avocado oil
¼ tsp. salt
1 small avocado, sliced
1 cup spinach
Salsa (for serving)

Tofu Scramble

1 block tofu
1 tbsp. avocado oil
1 onion, chopped
2 garlic cloves, chopped
½ tsp. salt
½ tsp. cumin
¼ tsp. turmeric powder
¼ tsp. paprika
½ tsp. liquid soy seasoning (can sub tamari or soy sauce)
Instructions
Using your hands, crumble the tofu into small pieces until it resembles scrambled eggs and set aside.
Heat the avocado oil in a large skillet on medium-high heat.
Add the onion, and sauté for 2-3 minutes, then add the garlic and sauté another 2 minutes.
Add the tofu, salt, cumin, turmeric, paprika, and soy seasoning, cooking for another 3-4 minutes.
To prepare the sweet potato – preheat the oven to 400F and line a baking sheet with parchment paper, scatter cubes on pan and coat with ½ tbsp. avocado oil and roast for 30 minutes (may also use air fryer for 12-15 minutes at same temperature).
Place the spinach, avocado, scrambled tofu and sweet potato into the tortilla wrap and roll it up.
Optional – grill your burrito in a pan or panini press.
Serve with side of your favorite salsa and/or hot sauce!
https://eatsparkcity.org/recipes/tofu-breakfast-burrito/