Vanilla Buckwheat Pancakes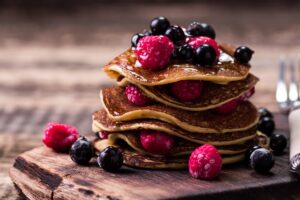 Vanilla Buckwheat Pancakes
Calories: 212
Fat: 11 grams
Carbohydrates: 25 grams
Fiber: 4 grams
Protein: 6 grams
Allergens: Gluten, wheat, flax seeds, almonds
Ingredients
1 cup white buckwheat flour
1 cup spelt four (can sub gluten-free flour)
1 tbsp baking powder
½ tsp salt
2 tsp organic cane sugar (can omit for sugar-free)
2 Flax eggs (combine 2 tbsp flax seeds with 6 tbsp water and let sit for 5 minutes)
1 ¼ cup almond milk
1 tbsp avocado oil (or any neutral flavored vegetable oil)
2 tsp vanilla extract
Extra oil for the pan
Instructions
Mix the buckwheat flour, spelt flour, baking powder, salt, and sugar together in a mixing bowl.
In a separate bowl, whisk together the eggs, almond milk, avocado oil, and vanilla extract.
Pour the wet ingredients into the dry ingredients and mix until combined.
Lightly coat a large, non-stick skillet with oil on medium-high heat.
Pour a large scoop of the batter into the pan and cook until brown on each side (about 2-3 minutes on one side and 1 minutes on the second side)
Serve with choice of syrup and favorite fruit!
https://eatsparkcity.org/recipes/vanilla-buckwheat-pancakes/