Vegan Corn Fritters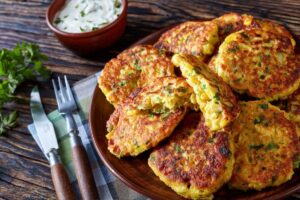 Calories: 250
Fat: 15 grams
Carbohydrates: 20 grams
Protein: 7 grams
Allergens: Soy, tree nuts
Ingredients
2 cups shaved sweetcorn kernels (approx. 2 ears of corn)
7 oz silken firm tofu
1 tsp salt
1 tsp garam masala
A good pinch of chili (optional)
1¼ tsp baking powder
½ tsp baking soda
2 tbsp lime juice
Small bunch of fresh coriander, finely chopped
1 spring onion / scallion, finely chopped
1 large garlic clove, finely grated
1 heaped cup chickpea flour
¼ cup unsweetened almond milk or water
Vegetable oil, for frying
Instructions
Place all the ingredients, except for oil, in a large mixing bowl.
Mix until smooth and lump free.
The batter should have a thick but spoonable consistency. Let the batter sit for about 5 minutes for the baking powder and soda to activate.
Heat up a medium non-stick frying pan on the stove, but be careful not to get the pan too hot as the pancakes will burn before cooking in the middle.
Heat up a little oil in the frying pan – the more oil you use, the crispier these will become. More oil will turn these into fritters, a small amount of oil will make them into pancakes.
Place 1 tbsp of batter per pancake / fritter onto the hot oil. Flatten the pancakes/ fritters with the back of a spoon and fry for about 2-3 minutes on one side and 2 minutes on the other side.
https://eatsparkcity.org/recipes/vegan-corn-fritters/