Vegan Cream of Cauliflower Soup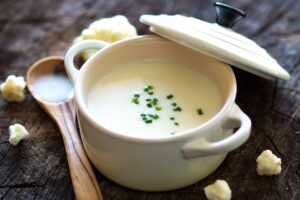 Vegan Cream of Cauliflower Soup
Ingredients
1 large head of cauliflower, cut into florets
4 cups vegetable broth
2 cups of unsweetened nut milk (flaxseed, almond, or cashew)
1 onion, diced
3 cloves garlic, chopped
1 Tbsp unrefined coconut oil
1/2 cup raw cashews
Salt and pepper to taste
Instructions
Sauté onion and garlic in coconut oil over medium heat. When soft, add cauliflower, broth and milk.
Bring to a boil and then turn heat down to low to simmer for about 10 minutes or until cauliflower is tender.
Remove from heat and blend in batches with raw cashews divided between the batches.
Blend at max speed until smooth and creamy. Add salt and pepper if desired.
https://eatsparkcity.org/recipes/vegan-cream-of-cauliflower-soup/