Vegan Quinoa Veggie Lunch Bowl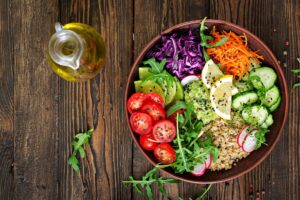 Vegan Quinoa Veggie Lunch Bowl
Calories: 376
Fat: 14 grams
Carbohydrates: 50 grams
Fiber: 8 grams
Protein: 15 grams
Allergens: Sesame
Ingredients
Bowls

2 cups dry quinoa , cook using the package directions
1 pound leafy greens , such as arugula, spinach, or romaine
1 large cucumber , chopped
1 -2 bell peppers , chopped
1 pint cherry tomatoes , sliced in half
2-3 radishes , thinly sliced
Green onions , chopped, for garnish
Cooked beans (optional) black, pinto, kidney, etc.

Creamy Italian Dressing

1/4 cup water (plus 1-2 tablespoons to thin)
1/2 cup raw tahini
1/2 teaspoon salt
1 teaspoon raw apple cider vinegar
1/4 cup freshly squeezed lemon juice
2 cloves garlic
1/2 teaspoon onion powder
1/2 teaspoon dried oregano
Instructions
Cook the quinoa following the package directions. Fluff and set aside.
While the quinoa is cooking, chop the vegetables and prepare the dressing.
To prepare the dressing, add all of the dressing ingredients to a blender and blend until completely smooth. (Or whisk them together in a mason jar.) Do be sure to use raw tahini, as the toasted one that is more commonly found in stores tastes much stronger and more bitter to me. The final result should taste closer to Italian dressing!
Once everything is chopped, blended, and cooked, all you need to do is assemble your bowl. I like to start with about 1/2 to 3/4 cup of cooked quinoa, 2 to 3 cups of leafy greens, and then a handful of each of your favorite chopped toppings. Drizzle the top generously with your favorite dressing. Enjoy this new dish!
https://eatsparkcity.org/recipes/vegan-quinoa-veggie-lunch-bowl/