Veggie Stuffed Peppers with Avocado Cream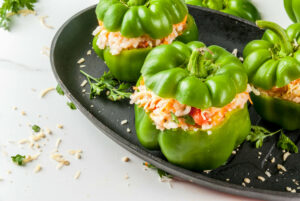 Ingredients:
6 each Bell peppers
3 cups Cooked Rice
1 each Chayote Squash, cut in Half
!/4 head Green Cabbage, sliced
2 each Green Onion, sliced
½ each Jalapeno, sliced
1 each Tomato, chopped
1 cup Mozzarella cheese
2 T Canola oil
2 each Avocados
1 cup Sour Cream or crema
Method:
For Sauce, chop avocado and sour cream and whisk together until smooth. Set aside until finished with peppers.
Slice tops off peppers and remove seeds.
Preheat oven to 350 degrees Fahrenheit
Grate Chayote squash on a grater
In mixing bowl, mix together, rice, cabbage, green onion, grated chayote squash, tomato, and jalapeno.
Stuff Mixture into peppers
Heat sauté pan over medium heat and add 2 tbsp of canola oil
Add peppers and roast lightly on each side until just a little browned
Place peppers on sheet tray and top with a small amount of the mozzarella
Roast in oven for 20-25 minutes until peppers are starting to become soft and cheese is melted and browned
Being very careful as tray will be very hot. Use a spatula to carefully lift onto plate and top with Avocado cream
EAT!!!