Zucchini Corn Fritters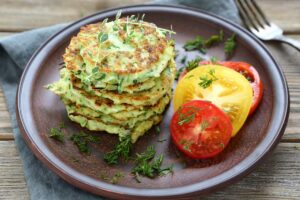 Calories: 92
Fat: 2 grams
Carbohydrates: 16 grams
Fiber: 3 grams
Protein: 5 grams
Allergens: None
Ingredients
4 cups shredded zucchini, about 4 medium-size zucchini
1½ cups corn kernels, fresh or frozen and defrosted (about 8 ounces)
¾ cup chopped green onions, about 6 green onions
3 garlic cloves, minced
1¼ cup chickpea flour
2 teaspoons ground cumin
1 teaspoon dried oregano
1 teaspoon dried thyme
1 teaspoon salt & pepper
High heat oil
Black beans, salsa and avocado, for serving
Instructions
In a large bowl, combine shredded zucchini, corn, green onions, chickpea flour, garlic, cumin, oregano, thyme, salt & pepper. Stir together until combined. Allow to sit for at least 5 minutes. This is an important step so the flour will absorb the moisture from the zucchini and create a batter.
Warm a large non-stick skillet over medium heat. Grease with preferred cooking oil then scoop out 1/4 cup of the zucchini mixture at a time into the skillet. Cook for about 3-5 minutes on each side, until light golden brown.
Serve warm with black beans, salsa, and/or avocado, then enjoy!
https://eatsparkcity.org/recipes/zucchini-corn-fritters/