A Healthier Panini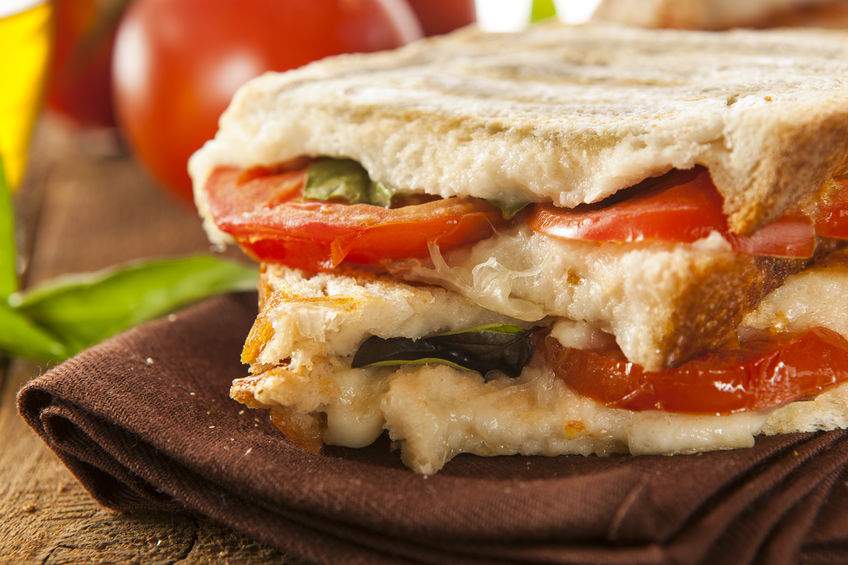 Inspired by guest chefs from Ellie's Catering & Cafe
Ingredients
Paninis:
Whole wheat bread, 8 slices
Arugula
Mozzarella Cheese
Balsamic Vinegar
Tomatoes
Pesto:
2 cups packed fresh basil leaves
2 cloves garlic
¼ cup pine nuts
2/3 cup extra-virgin olive oil, divided
Salt & pepper
½ cup freshly grated Pecorino cheese
Instructions
Prepare the pesto. Combine basil, garlic, and pine nuts in a food processor and pulse until coarsely chopped. Add ½ cup of the oil and process until fully incorporated and smooth. If you don't have a food processor, chop finely by hand. Season with salt and pepper. Transfer the pesto to a large serving bowl and mix in the cheese.
Slice the mozzarella and tomatoes.
Assemble sandwiches - spread pesto on bread, layer mozzarella, tomatoes, and arugula. Cook sandwiches in the panini press or on a stovetop. For the stovetop, heat 1 teaspoon oil in a large nonstick skillet over medium heat. Place 2 paninis in the pan. Cook on 1 side weighted down with a spatula. Then flip. Cook until cheese is melted.
https://eatsparkcity.org/recipes/a-healthier-panini/