Beef-less Vegan Bowl with Cauliflower Rice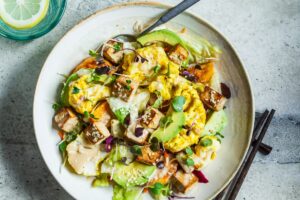 Beef-less Vegan Bowl with Cauliflower Rice
298 calories
Fat: 19.6 grams (Saturated Fat: 2.8 grams)
Carbohydrates: 15 grams
Fiber: 6.3 grams
Protein 15.4 grams
Allergen: None
Ingredients
1 recipe Beefless Ground Beef (Beyond Burger, Impossible Burger, Tempeh etc.)
1 (12 ounce) package frozen riced cauliflower
4 teaspoons olive oil
1 teaspoon no-salt-added taco seasoning
1 cup thinly sliced red cabbage
1 cup diced avocado
½ cup pico de gallo or salsa (your favorite recipe or brand)
¼ cup chopped fresh cilantro
Instructions
Prepare beefless ground beef as directed.
While the beefless ground beef cooks, prepare riced cauliflower according to package directions. Toss with oil and taco seasoning.
Divide the cauliflower among 4 single-serving containers with lids. Top each with 1/2 cup beefless ground beef, 1/4 cup each cabbage and avocado, 2 tablespoons pico de gallo (or salsa) and 1 tablespoon cilantro. Seal the containers and refrigerate until ready to eat.
*To make ahead: Refrigerate for up to 4 days.
https://eatsparkcity.org/recipes/beef-less-vegan-bowl-cauliflower-rice/