Cauliflower Dal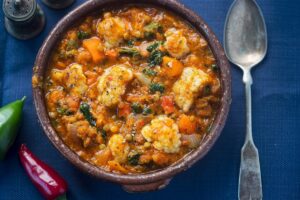 Calories: 450
Fat: 23 grams
Carbohydrates: 50 grams
Protein: 19 grams
Allergens: Coconut
Ingredients
1 cup split red lentils (masoor dal)
2 cups boiling water
2 tablespoons coconut oil
1 teaspoon coriander seeds, crushed
1 teaspoon cumin seeds
1 teaspoon mustard seeds
1 teaspoon fennel seeds
2–3 shallots, finely chopped
4 garlic cloves, finely chopped
2 teaspoons ginger, grated or finely minced (or use ginger paste)
2–4 fresh or dried chilies (optional, for heat)
1 teaspoon yellow curry powder
1/2 teaspoon turmeric powder
1 teaspoon salt
1 teaspoon fenugreek leaves
1 can coconut milk
1 large head of cauliflower, broken into large florets (about 2 lbs), stems okay
Instructions
Cover the split lentils with 2 cups boiling water, set aside.
In an extra-large sauté pan or Dutch oven, heat the coconut oil over medium heat, add the crushed coriander seeds, mustard seeds, cumin seeds, fennel seeds and stir for one minute.
Add the shallots, garlic and ginger and optional chilies, and saute until fragrant and golden, lowering the heat to med-low, if need be, about 5 minutes. Add the curry powder and turmeric. Stir in the lentils along with the 2 cups of hot water. Add the salt and fenugreek. Give a good stir.
Add the coconut milk and stir to incorporate, then add the cauliflower florets, coating them well. Give the pan a shake to allow any lentils to slip back into the liquid. Increase heat, bring to a simmer, cover, and simmer gently over med-low heat, until lentils are softened and cauliflower is fork-tender, about 10 minutes.
Remove lid and let some of the liquid cook off, about 3-4 more minutes. Taste, adjust seasonings. Add a squeeze of lemon if you like.
Add a few handfuls of spinach, gently folding it in. Garnish with cilantro or scallions.
Serve with naan bread or basmati rice, or on its own in a bowl like a stew.
https://eatsparkcity.org/recipes/cauliflower-dal/