Crockpot Roast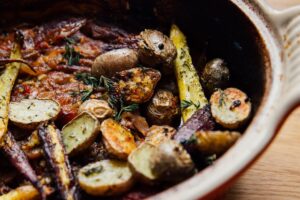 Ingredients
1 pound baby carrots
1 can mushroom stems and pieces
3-pound rump roast
½ tsp garlic powder
¼ tsp pepper
1 tbsp oil
1 jar beef gravy
1 can cream of mushroom soup
1 cup water
1 envelope onion soup mix
Instructions
Place carrots and mushrooms in slow cooker.
Sprinkle roast with garlic powder and pepper.
In a skillet, brown the roast in oil on all sides.
Transfer the roast to the slow cooker and arrange it with all of the veggies.
Pour the mushroom soup, the water, and the envelope of onion soup mix over the roast.
Cook for 6 - 8 hours on low.
https://eatsparkcity.org/recipes/crockpot-roast/