Mushroom Quesadilla
This recipe easily doubles as a light vegetarian dinner or as a hearty appetizer to serve to a crowd. Customizable, switch up the mushrooms and your favorite cheese to make this earthy, kid-friendly Mushroom Quesadilla your own.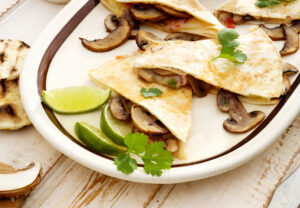 Ingredients
1 Tbsp. Vegetable Oil
1?4 C. Mushrooms (black trumpet, oyster, cremini, clamshell, or other wild mushrooms.)
2 tablespoons Yellow Onion, Minced
1 oz. Grated Oaxaca or Muenster Cheese
1 oz. Grated Panela or Aged Mozzarella Cheese
1 oz. Grated Cotija or Parmesan Cheese
1 Tbsp. Cilantro
Dash of oregano
1 Whole Wheat or Corn Tortillas
Instructions
Heat the vegetable oil in a medium sauce pan. When the oil shimmers, add mushrooms and a pinch of salt. Sauté until mushrooms release their liquid, liquid evaporates and mushrooms begin to brown, about 10 minutes.
Add onions. Sauté until onions ares soft and the entire mixture is golden brown, about 5 minutes. Remove from heat.
Add mushroom mixture to grated cheeses, cilantro, oregano and coriander. Season to taste with salt and pepper.
Place one tortilla in the middle of the skillet, on medium heat. In the middle of the tortilla scoop the mushroom cheese mixture and fold the tortilla over the mixture.
Cook until one side is golden brown then flip the tortilla over once until the other side is golden brown and the cheese has melted.
6. Slice into quarters and top with salsa and/or sour cream if desired.
https://eatsparkcity.org/recipes/mushroom-quesadilla/
SaveSave