Pozole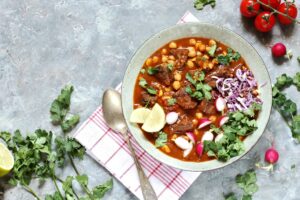 Ingredients:
A leg of pork (optional) – You can substitute other roasted meat as preferred
3 15 oz (total 45 oz)  cans white corn (Hominy) 
4 cups of chicken broth 
1 large onion, quartered
3 garlic cloves, sliced
1 teaspoon whole cloves
1 teaspoon cumin seeds
2 dried Arbol chiles, stemmed and seeded
2 dried ancho chili peppers, stemmed and seeded
2 dried guajillo chiles, stemmed and seeded
Salt
Pepper
Seasonings you can add:
Cabbage
Lemon
Avocado
Chopped serrano chili
Pork rind
Bread or Chips
Directions:
1. First boil the leg with garlic, onion, cloves, cumin, and chicken broth. You can use more chicken broth or water to completely cover the leg. Bring to a boil, then cover and reduce to a simmer. Let simmer for an hour and a half.
2. Add salt and pepper to taste.
3. Put the dried chilies in a bowl and pour in 2 cups of boiling water. Let it soak for 30 minutes. Place the chiles and about ½ cup of their soaking liquid in a blender. Blend until smooth, adding more water as needed.
4. Add the chili puree and corn to the pot with the pork leg. Continue to simmer, covered, until the pork leg is very tender, about 1 hour and 30 more minutes.
5. When the leg is cooked it has to be taken out and put on a fret.
6. Serve with the seasonings of your choice.