Vegan Kale and Chickpea Power Bowl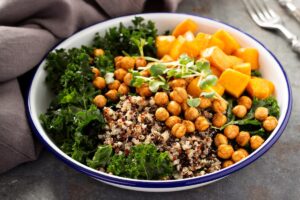 Vegan Kale and Chickpea Power Bowl
Calories: 585
Fat: 27 grams
Carbohydrates: 80 grams
Protein: 15 grams
Allergens: None
Ingredients
3 Tablespoons + 2 teaspoons olive oil, divided out
1/4 teaspoon cumin
1 lb sweet potato, peeled and chopped into chunks
3 oz chopped kale
1/4 cup diced red onion
3/4 cup canned chickpeas
1/2 Tablespoon brown sugar
1/2 teaspoon chili powder
3/4 cup cannellini beans
1 Tablespoon apple cider vinegar
1/2 teaspoon ground pepper, divided
1 1/4 teaspoon sea salt, divided
Instructions
Preheat oven to 400° F. Line a baking sheet with foil or parchment paper.
Prep vegetables: Chop sweet potatoes and kale.
Roast vegetables: Spread sweet potatoes and onion onto the baking sheet and toss with 1 tablespoon of olive oil, ½ teaspoon salt, ¼ teaspoon pepper and ¼ teaspoon cumin. Spread out evenly on the pan and roast for 10 minutes. Use a spatula to flip over and push to one side of the tray. Add kale to the empty side of the baking sheet and drizzle with 2 teaspoons olive oil and a pinch of salt and pepper. Roast for 10 more minutes.
While vegetables are roasting, heat a skillet (cast iron is great) to medium.
Season chickpeas: Add the chickpeas to a mixing bowl with the brown sugar, ½ teaspoon chili powder, ¼ teaspoon salt and a pinch of pepper. Use your hands to coat the chickpeas well.
Cook chickpeas: Add 1 tablespoon olive oil to the hot skillet. When oil starts to shimmer, add seasoned chickpeas and cook, stirring occasionally, until browned (about 8 minutes). Note: Don't be alarmed if they look like they are burning…they aren't!
Make dressing: Into a blender, add beans, 2 tablespoons warm water, 1 Tablespoon apple cider vinegar, 1 Tablespoon olive oil, ½ teaspoon salt, ¼ teaspoon pepper and a pinch of ground cumin if desired. Blend until smooth and creamy. Add more water if you want or desire a thinner dressing.
To serve: Divide roasted vegetables between two bowls, top with chickpeas and drizzle with dressing (or serve dressing on the side).
https://eatsparkcity.org/recipes/vegan-kale-chickpea-power-bowl/