Vegan Red Beans and Rice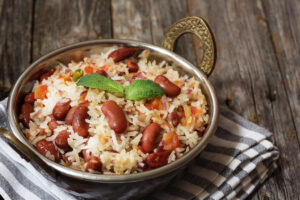 Calories: 477
Fat: 8 grams
Carbohydrates: 83 grams
Fiber: 13 grams
Protein: 19 grams
Allergens: None
Ingredients
1 pound dry red kidney beans, soaked overnight
2 tablespoons cooking oil
1 medium yellow onion, diced
1 green bell pepper, chopped
2 medium stalks celery, diced
6 cloves garlic, minced
2 tablespoons fresh parsley, chopped, plus more for garnish
1 tablespoon hot sauce of choice
1 teaspoon dried thyme
1 teaspoon paprika
1/2 teaspoon salt, plus more to taste
1/4 teaspoon pepper, plus more to taste
1/8 teaspoon ground cayenne pepper
2 bay leaves
1 32-ounce container vegetable broth
1 1/2 cups dry brown rice
Instructions
Drain the kidney beans after an overnight soak; set aside.
In a large pot over medium heat, add oil. When hot, add onion, bell pepper and celery. Cook until vegetables are tender and slightly browned, about 8-10 minutes. Add garlic; cook for one more minute, until fragrant.
Add parsley, hot sauce, thyme, paprika, salt and pepper; stir to evenly coat the vegetables in the spices. Cook for one minute.
Add kidney beans, bay leaves and vegetable broth. Bring to a boil; cover, lower heat and simmer for 1 hour and 15 minutes. Remove lid; let simmer uncovered for 15 minutes.
While the beans are cooking, prepare rice according to package directions.
When the beans are ready, scoop about 1/4 of the beans in a blender or food processor; blend until smooth. Return to pot and stir.
Serve beans with a scoop of rice and a sprinkle of chopped parsley.
https://eatsparkcity.org/recipes/vegan-red-beans-rice/