Vegan Shepard's Pie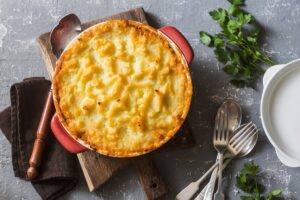 Calories: 480
Fat: 6 grams
Carbohydrates: 90 grams
Protein: 19 grams
Allergens: None
Ingredients
9 potatoes (russet, Yukon gold, or similar), washed, peeled and cut into quarters
12½ cups water
2 tbsp extra virgin olive oil
1 tbsp garlic crushed
2-inch ginger peeled, finely chopped
2 onions peeled and cut into medium slices
1 cup tomato sauce
1 red bell pepper washed and chopped into small pieces
1 tsp chili powder, add to taste
1½ cups green or brown lentils uncooked
1½ tsp salt
½ lemon, juiced
1 tsp black pepper
1 tsp dried parsley or another dried herb of your choice
Instructions
Adjust oven rack to upper-middle position and preheat oven to 425 degrees Fahrenheit.
In a large saucepan, add potatoes and 10 cups of water. Bring to boil on high heat and cook for 20 minutes over medium-high heat or until cooked through.
While the potatoes are cooking, start to prep the lentils filling. Begin by gathering all the ingredients to save time.
In a cast iron or another type of non-stick cooking pot, heat 1 tbsp of olive oil on medium heat.
Add the garlic and ginger and fry until golden.
Stir in the onions, cover and cook for 2-3 minutes on low heat to soften the onions. This technique helps to use less oil.
Pour in the tomato sauce along with the chopped peppers and red chili powder. Feel free to go easy with the chili to suit your taste preferences. Stir well.
Follow with the drained uncooked lentils and 2.5 cups of water. Stir, bring to boil over high heat and cover and cook for 15 minutes on medium-low heat.
Add 1 tsp of salt and juice of half a lemon and stir. You should end up with a thick (not dry) consistency. Transfer to a 12 X 8-inch rectangular baking dish or pan.
By now, the potatoes should be done. Drain and transfer to a large container.
Add 1/2 tsp salt, 1 tsp of pepper and 1 tsp of parsley flakes to bring flavor to the potatoes without the need for added fat and more salt. Mash the potatoes thoroughly.
Now spread the mashed potatoes evenly over the filling. Brush 1 tbsp of oil all over the potato topping.
Bake for 10 mins and broil about 1-2 minutes until the top is golden. You don't want to overdo this as the potatoes will dry out.
Remove from oven and cool for 5-10 minutes before serving. Garnish with more parsley flakes if desired.
https://eatsparkcity.org/recipes/vegan-shepards-pie/