Vegan Taco Salad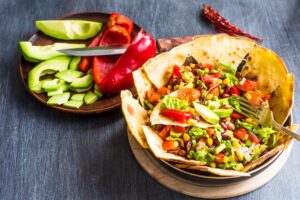 Calories: 319
Fat: 10 grams
Carbohydrates: 47 grams
Fiber: 14 grams
Protein: 15 grams
Allergens: None
Ingredients
Salad

4 c. romaine lettuce shredded
1 -15 oz can black beans, drained and rinsed
1 recipe fresh tomato salsa dressing see recipe below or any fresh salsa of your choice
4 oz baked tortilla chips (Trader Joe's Quinoa & Black Bean Infused Tortilla Chips are great)
1/2 c. chopped fresh cilantro, optional
4 servings guacamame about 1 cup, see recipe below or a packaged guacamole hummus

Fresh Tomato Salsa Dressing

1 lb tomatoes, about 3 medium
1/4 c. chopped fresh cilantro
1 clove garlic, minced
1 tbsp. red wine vinegar
2 tsp. hot sauce, your choice
Ground black pepper
Pinch of salt

Guacamame

4 oz sliced avocado
1 c. frozen edamame, completely thawed
1/4 c. water
1/4 tsp. salt
Juice of 1 lime
1 plum tomato, chopped
2 tbsp. red onion, chopped
1/4 c. loosely packed cilantro leaves optional
Instructions
Divide the salad among four big bowls. First, place the lettuce in each bowl, then layer on the black beans and salsa. Crumble on the tortilla chips, and top with cilantro, if using. Serve with guacamame.
Chop the tomatoes finely and place them in a mixing bowl. Add the remaining ingredients, mix everything up well. Let sit for 10 minutes. Chill in an airtight container until ready to use, up to 5 days.
Place the avocado and edamame in a food processor. Pulse until everything is well chopped. Add the water, salt, and lime juice, and puree until relatively smooth, scraping down the sides with a spatula. Add the tomato, red onion, cilantro, and pulse to completely combine. Transfer to a bowl, taste, and adjust flavors, if necessary. Serve right away.
https://eatsparkcity.org/recipes/vegan-taco-salad/