Veggie Burgers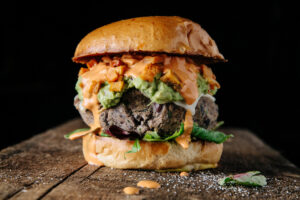 Calories: 396
Fat: 9.6 grams
Carbohydrates: 60 grams
Fiber: 12.9 grams
Protein: 20 grams
Allergens: gluten
Ingredients
1 1/4 pounds sweet potato or butternut squash
1 tablespoon plus 2 teaspoons extra-virgin olive oil
1 cup walnuts, finely chopped, or 1/2 cup hulled sunflower or pepita seeds
2/3 cup finely chopped onion
3 tablespoons minced garlic (6 or 7 large cloves)
2 (14-ounce) cans black beans, drained and rinsed
2 to 3 tablespoons 9-Spice Mix, to taste
1/4 to 1/2 teaspoon fine sea salt, or to taste
1/4 cup lightly packed fresh parsley, finely chopped
1/3 cup Easy Barbecue Sauce or store-bought (vegan)
1 cup spelt bread crumbs or breadcrumbs of your choice (gluten free as needed)
2 tablespoons gluten-free oat flour
Instructions
Preheat the oven to 375°F. Line an extra-large baking sheet with parchment paper.
Peel the sweet potato and cut it into 1/2-inch cubes. Spread the cubes over the baking sheet and toss with 1 tablespoon of oil. Season with salt. Roast for 15 minutes, then flip and roast for 15 to 20 minutes more, until fork-tender.
In a large skillet, toast the chopped walnuts over medium heat for 5 to 6 minutes, until fragrant and lightly golden. Transfer the walnuts to an extra-large bowl (trust me when I say extra-large as there is a lot of dough to mix).
In the skillet, heat the remaining 2 teaspoons oil over medium heat. Add the onion and garlic, stir to combine, and sauté for 3 to 5 minutes, until softened. Transfer to the bowl.
In a food processor, pulse the beans until you have a mixture of bean paste, chopped beans, and fully intact beans. Be careful not to over-process them, as you still want a bit of texture. Transfer the beans to the bowl. (You can also mash by hand if necessary.)
Measure out 2 lightly packed cups of the roasted sweet potato and transfer to the large bowl. With a fork, mash the potato into the other ingredients in the bowl.
Add the 9-Spice Mix, salt, parsley, barbecue sauce, bread crumbs, and oat flour to the bowl. Stir until thoroughly combined. You can knead the dough together with your hands if that's easier, or just keep stirring. Taste and adjust the seasonings, if desired.
Scoop a heaping 1/3 cup of the dough and shape it into a round, uniform patty, packing it tightly as you rotate the patty in your hands. Place the patty on the lined baking sheet. Repeat to make 11 or 12 patties total, setting them at least an inch apart.
Bake for 15 minutes at 375°F, gently flip and bake for 10 to 20 minutes more, until firm and lightly golden. Cool on a cooling rack for about 10 minutes before serving.
Let any leftover patties cool completely before storing in an airtight container in the fridge for up to 3 days.
https://eatsparkcity.org/recipes/veggie-burgers/