Whole Wheat Pasta and Pomodoro Sauce
A simple vegetarian meal that can be on the table in less than 30 minutes! Pomodoro Sauce is a quick, fresh alternative to a traditional marinara sauce and is a great way to use the abundance of tomatoes during the summer months. Use whatever fresh herbs you have on hand- basil, parsley, or even thyme or rosemary- or a combination of a few. This is a great beginner recipe for kids and it's a crowd pleaser all around!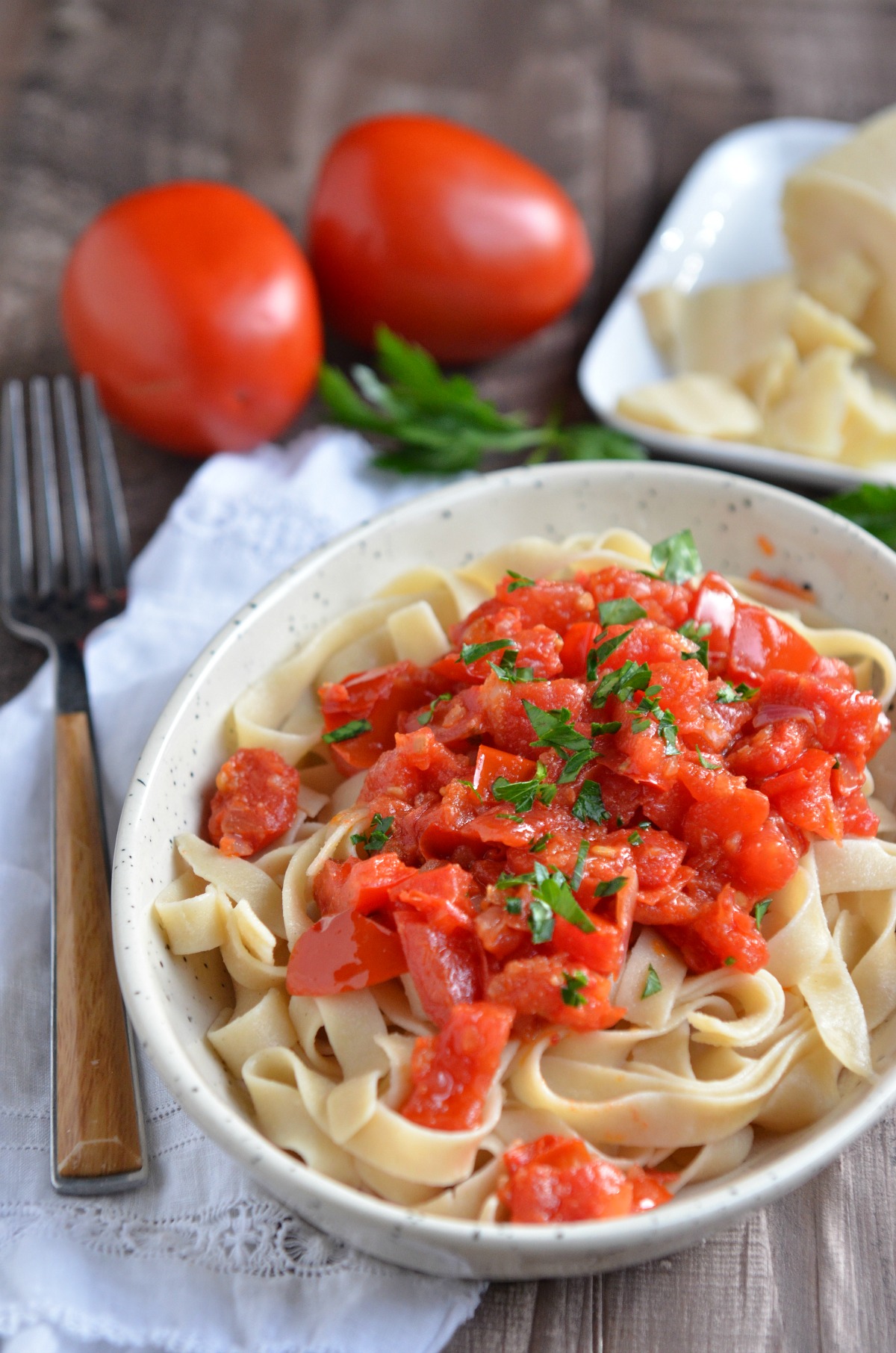 Ingredients
4 Garlic Cloves, Minced
4 Tablespoons Onion, Diced
4 Tablespoons Olive Oil
4-6 Tomatoes, Chopped (about 4 cups)
6 Tablespoons Fresh Herbs (Oregano, Basil, Parsley), chopped Salt and Pepper, To Taste
6 Cups Uncooked Whole Wheat Pasta, cooked for serving
Instructions
Cook the Pasta:

1. Bring 4-6 quarts of water to a rolling boil, add salt to taste.
2. Add contents of pack to boiling water.
3. Return to a boil. For authentic "al dente" pasta, boil uncovered, stirring occasionally for 11 minutes.
4. Remove from heat and drain using a strainer.

Make the Pomodoro Sauce:

1.While the water for the pasta is coming to a boil, cut and chop garlic, onion, tomatoes and herbs.
2. In a saucepan over medium heat, sauté garlic and onion in oil for 2 minutes.
3. Add tomatoes and herbs, continue to cook for 5 minutes until the tomatoes soften.
4. Season with salt and pepper. 5. Serve over pasta.
https://eatsparkcity.org/recipes/whole-wheat-pasta-and-pomodoro-sauce/