EATS Eats School Lunch
Eating lunch in the school cafeteria is something I have done 100's of times as a student in the 1990's. At first, as I stepped into the cafeteria at Jeremy Ranch Elementary School, this experience seemed no different. Children racing by to sit near their friends, trading orange slices for cookies, socializing, and fueling for the rest of the day. Seeing these familiar aspects of school lunch immediately brought back memories of seeing who could bounce their hot dog the highest, and testing the limits of how many pieces of square pizza we could eat.
While a lot of this visit was familiar, there was so much that was vastly different from my childhood lunchroom experiences.
First – the salad bar. I do not remember my school ever having one and this particular bar was more impressive than what's standard at most restaurants. There were mixed leafy greens, cherry tomatoes, cucumbers, carrots, and bright juicy orange slices. What shocked me the most, was students were not only choosing this option, but eating it.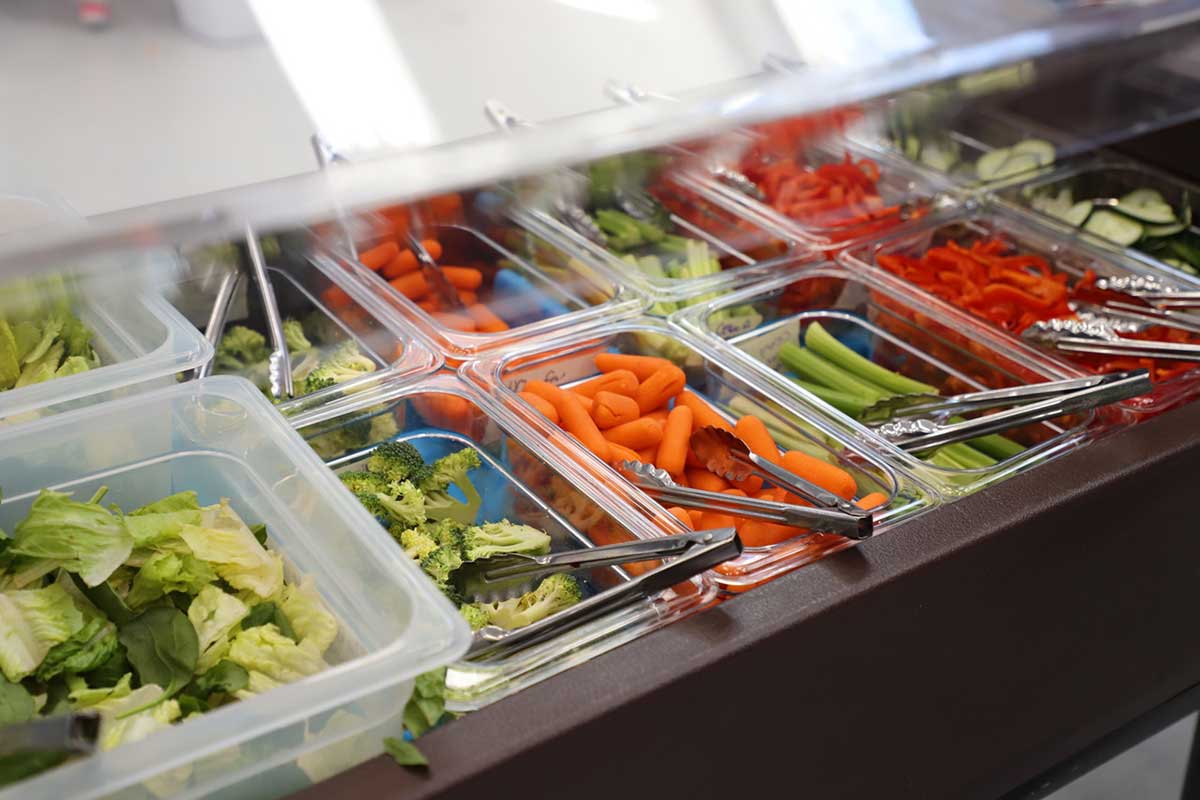 Next – the entree. This particular day there was whole wheat cheese ravioli, and tomato cream sauce. I chatted with the lunch staff to learn that they in fact made this sauce. We were also offered a sample of shredded chicken with their popular house made BBQ sauce (soon to be added to the menu).
At the end of the line the fruit was again presented (I had missed it at the beginning so this was perfect). Having worked in fruit trees for several years, I was beyond delighted to find good quality, seasonally appropriate fruit. The pear I took was delicious.
EATS staff chatted with students about the food as we cleared our plates. When they announced seconds, at least 20 students (and a few teachers) jumped up and prepared to devour another helping.
This took place at Jeremy Ranch Elementary School in October of 2018. Jeremy Ranch is the first of seven schools in the Park City School District (PCSD) to begin the transition from heat and serve to scratch made meals. The PCSD invited parents and the community to come see this new menu for themselves, and the result was fantastic.
"Simple, clean, and fresh. I was thrilled to see real, colorful ingredients on my plate that also tasted great. It was certainly a meal I would feel good sending my kids to school to eat, and a meal I know they would enjoy!"

~ Shannon Doleac, MS (Masters in Nutritional Biochemistry and Metabolism).
EATS Park City is an organization that is determined to ensure all students have access to and education on nutritious foods and we couldn't be more thrilled that the Park City School District is really stepping it up to meet the communities demand.
E-mail zoe@eatsparkcity.com if you'd like to come eat school lunch with us; it is guaranteed to be the best $3.50 meal you will find in Park City.