Ecker Hill Students LOVE Hummus!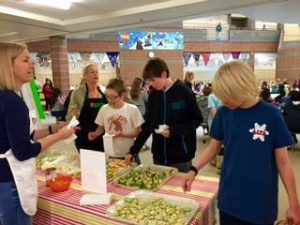 Read one volunteer's report on the Taste Test for Good Karma Hummus at Ecker Hill Middle School: "I really wish you could have seen the reception from the students. EATS offered fresh broccoli, peppers, jicama and cucumbers each with a bit of Hummus — they DEVOURED the veggies. I've never seen anything like it and the mom in me was just filled with gratitude to see 12 year old boys elbowing each other out the way to grab handfuls of raw broccoli to munch. You would have thought we had trays of cupcakes!"
Thank you to all our volunteers and Good Karma restaurant for making this event possible!
Get our Hummus Recipes that were used in our after school cooking classes at McPolin Elementary.