Two Awesome Recipes for Your August Harvest
Healthy Zucchini Tomato Bake
"This Healthy Zucchini Tomato Bake recipe is an easy way to use up all your summer vegetables. Fresh, healthy and full of flavor – it's the perfect side dish!"

The Clean Eating Couple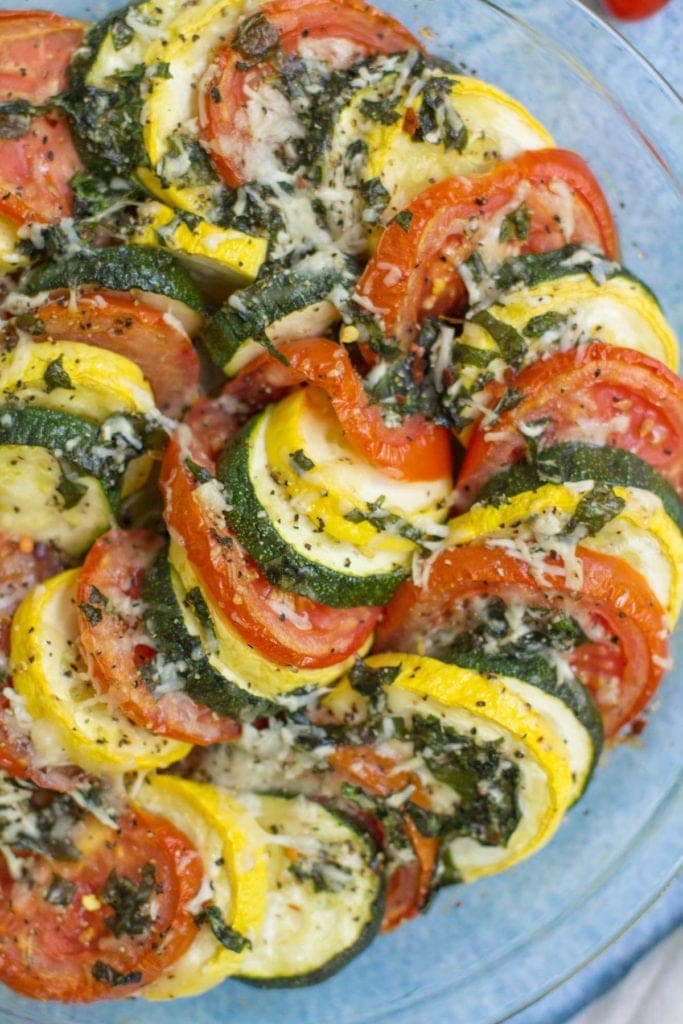 Ingredients
1 cup zucchini sliced
1 cup yellow squash sliced
2 cups tomatoes sliced
2 tablespoons basil fresh, chopped
2 tablespoons olive oil
1/4 cup grated Parmesan cheese
1 teaspoon salt
1 teaspoon pepper
Instructions
Preheat oven to 350 and spray a pie dish or 8 x 8 baking dish with oil.
Slice the tomato and squash into 1/4 inch thick slices.
Layer the squash and tomato in a pattern, side by side until the pan is full.
Whisk together chopped basil, olive oil, salt, pepper and Parmesan cheese. Pour it over vegetable mixture until covered.
Bake at 350 for 20 – 25 minutes until vegetables are slightly tender. If you like your vegetables cooked well, keep the dish in the oven for an extra 5 – 10 minutes. 
Optional: Top with additional parmesan and optional hot pepper flakes.
Notes
Substitutions for this recipe:
You can use all green or all yellow squash in this recipe.
You can chop all of the vegetables in pieces and mix them up in a bowl if you don't want to arrange them. Chop in 1-inch cubes. 
Stir-Fried Tofu with Mushrooms, Sugar Snap Peas and Green Onions
Ingredients
Marinade
3 tablespoons soy sauce
1 tablespoon unseasoned rice vinegar
1 tablespoon honey
1 teaspoon oriental sesame oil
1/4 teaspoon dried crushed red pepper
Stir-Fry
12-ounce package extra-firm tofu drained, cut into 3/4-inch cubes, patted dry with paper towels
1/4 cup water
1 teaspoon cornstarch
2 vegetable oil, divided
6 ounces fresh shiitake mushrooms, stemmed, caps quartered
8 ounces sugar snap peas, trimmed
4 garlic cloves, minced
1 tablespoon minced peeled fresh ginger
4 green onions, sliced on diagonal
Instructions
Marinade
Whisk the marinade ingredients in medium bowl to blend.
Add tofu and stir to coat; let marinate 30 minutes.
Drain, reserving marinade in a small bowl.
Whisk 1/4 cup water and cornstarch into the marinade.
Stir-Fry
Heat 1 tablespoon vegetable oil in a large nonstick skillet over medium-high heat.
Add tofu and sauté until golden, about 2 minutes.
Using a slotted spoon, transfer tofu to a plate.
Add remaining 1 tablespoon vegetable oil to skillet.
Add mushrooms and stir-fry until tender, about 3 minutes.
Add sugar snap peas; stir-fry 2 minutes.
Add garlic and ginger; stir-fry 30 seconds.
Return tofu to skillet; drizzle reserved marinade mixture over.
Stir-fry until marinade thickens slightly, about 30 seconds.
Season to taste with salt and pepper and transfer to a bowl.
Sprinkle with green onions and serve.