Yogamedo Teaches about Food and Yoga at Jeremy Ranch
In an effort to bring more food education to the classroom, EATS has partnered with Salt Lake-based company, Yogamedo. Read below to learn about one kinder's experience with Yogamedo.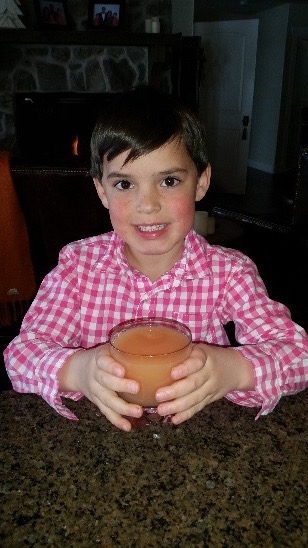 Jeremy Ranch kinder Will Hladon's mom was stunned when Will ordered grapefruit juice while his friends ordered hot chocolate. She was even more perplexed when he asked, "What else has Lycopene in it besides grapefruit?" Where was this coming from?
Will's class is piloting a new food education/yoga program called Yogamedo. Teachers are emailed a weekly, 15-minute video: the first half teaches about a healthy food and is followed by yoga moves that the kids do right in the classroom. EATS is sponsoring the program and will monitor its impact for considered expansion. If Will is any indication, more kids could have this food/yoga program next year.
Watch Yogamedo videos here to learn about Lycopene in grapefruit and other foods.
The teachers participating in the pilot program are:
Marie Roberts, Kinder
Jennifer Johnson, 2nd grade
Barbara Hansen, 2nd grade
Melinda Breiholz, 2nd grade
Renee Linford, 1st grade
Patrice Davis, 1st grade
Debra Guthery, 1st grade
Lucie KayserBril, 1st grade
Melissa Wilson, Kinder
Mindy Martin, Kinder
Liis Rametta, 5th grade
Christina Sutherland, 4th grade
Susan Boone, Special Ed
Wendy St. James, Counselor
Linda Hilton, 5th grade
Carol Boissonault, Librarian
Cheryl Eichner, PE